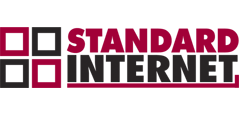 About Standard Internet
Founded in 1997, Standard Internet (SI) pioneered many of the interstitial advertising methods still in use on the internet today. Among SI's innovations were the effective use and monetization of interstitial advertising, as well as the quantification of pay per click search engine advertising. SI developed the first advertising programs for both of theses ad methods.

SI built it's CellularPhones.com website into a top 5 USA cell phone retailer before strategically selling the business in 2003.

The online world changed drastically in the time period after the "dot-com" bust in the early 2000's and SI changed along with it by diversifying their advertising based properties and focusing on what had become its management team's core competency of global merchant account acquisition, chargeback management, and risk mitigation.

Standard Internet's main offices are located in Medford New Jersey, approximately 45 miles from both Philadelphia International, and Atlantic City International airports.
Learn about our Management Team here.
More About Us